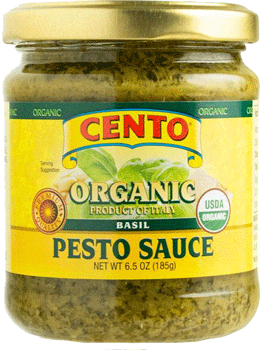 Cento Organic
Basil Pesto Sause
6.5 oz.

Cento Organic Pesto Sauce combines the delicious
flavors of fresh basil, pine nuts, PDO Parmigiano-
Reggiano cheese and premium quality extra virgin
olive oil for a delicious and versatile sauce.
This certified USDA organic sauce is delicious
tossed with pasta, used as a panini spread, or
added to your favorite chicken dish.