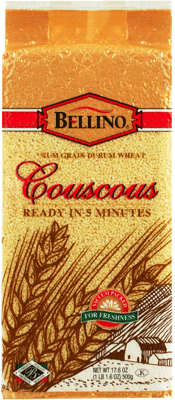 Bellino CousCous
17.6 oz. (500g)

Couscous is a staple of Mediterranean cuisine,
often used instead of potatoes or rice.
Bellino Couscous is ideal with fish, grilled meat,
or meat in sauce, but can also stand alone as a
side dish. The vacuum packaging ensures it
remains intact for long periods of time and still
keeps its traditional flavor and nutritional value.
Bellino Couscous can be used plain or with
flavorings such as saffron, tomatoes, grated
cheese, bouillon or hot pepper sauce.